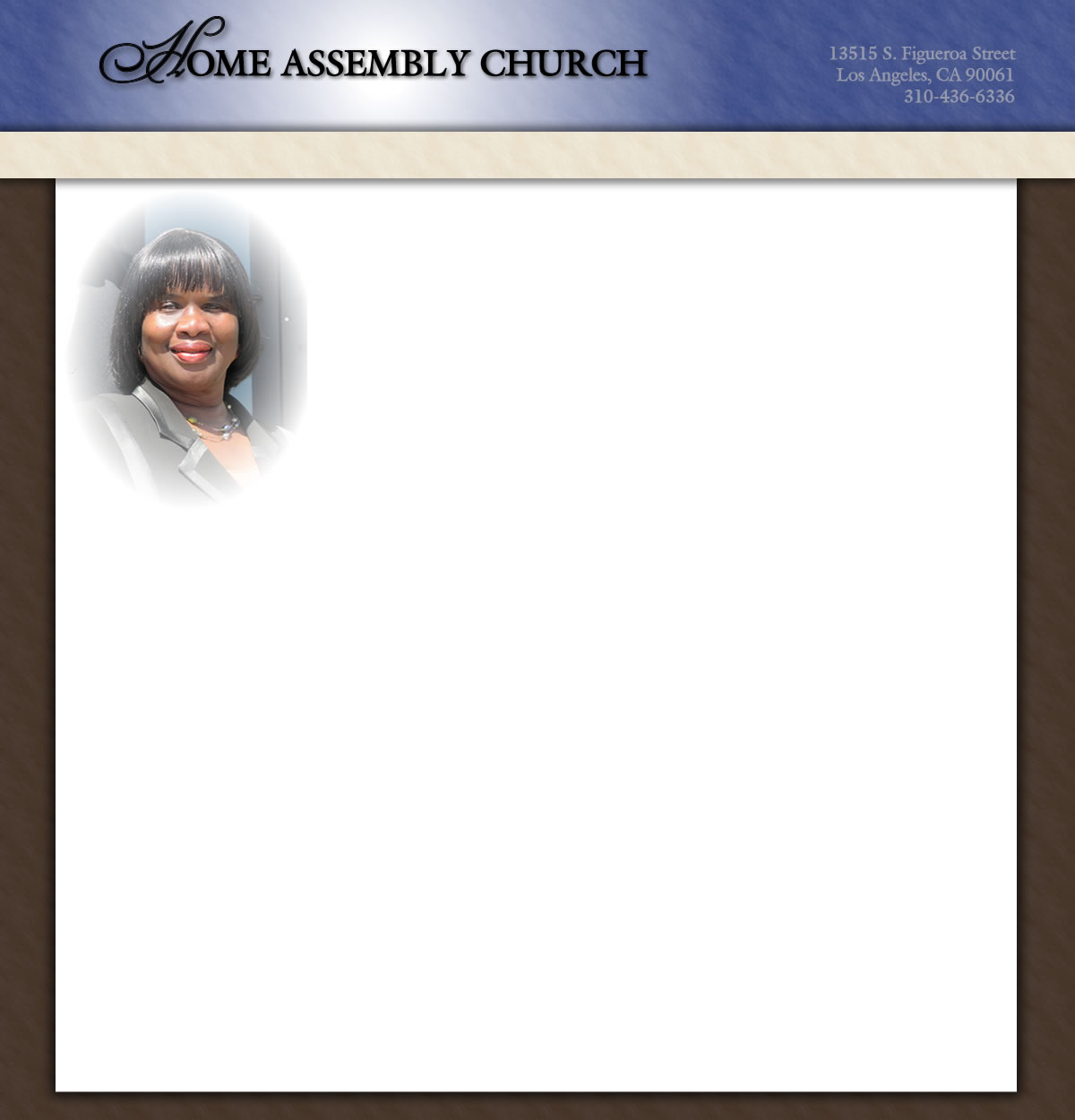 SISTER MARILYN JACKSON

Born to Ulysses and Mary Alice Williams, Sis. Marilyn was born on January 8 in Bakersfield, CA. She has one sister and three brothers, one of which has passed away. Her mother received salvation at Emmanuel Temple Church of Bakersfield, where her cousin District Elder Tommie Wofford now serves as Pastor. 

In 1978 when her mother went home to be with the Lord, Sis. Marilyn move to Los Angeles. While living on Skid Row in downtown Los Angeles, the paths of Marcus and Marilyn crossed in 1984. Although it was difficult to see because it was not a part of her plan, she was actually following God's direction as the two were destined to cross paths. Once they met, they became inseparable and joined in holy matrimony in Las Vegas, NV on May 25, 1985.

A few months later on Wednesday, June 19, 1985, her husband attended a service and gave his life to the Lord. He was baptized in Jesus' name and filled with the Holy Ghost. Excited about this life-changing experience, her husband asked her to return to the church with him. She accepted the invitation and attended on Sunday, June 23, 1985, and after hearing the gospel, she too was baptized in Jesus' name and received the Holy Ghost. This dynamic couple with a deep love of God and a strong commitment towards each other were now on their way towards God's destiny for their lives.

Affectionately known as "Sis. Marilyn", our first lady is an active worker in the Kingdom of God at her church. With a strong desire to accomplish God's purpose and will, Sis. Marilyn came in as a worker and hasn't stopped!!  With all graciousness, has has served in various capacities throughout the church and has held numerous volunteer positions.

Since joining Home Assembly, she served as Secretary for the REACH Team (Ministers), Sunday School Department, and the Women's Ministry.  She has also served as an instructor in Sunday School and Vacation Bible School (VBS) classes., and a member of the Ministers and Deacons Wives.  She has spearheaded and worked on fundraiser activities, and has served on the Pastor's Aide Committee under the Bishop Benton and Dr. Ussery administrations. For many years she was employed with Home Assembly Church as the Front Office Receptionist.

Currently, Sis. Marilyn serves on the Women's Ministry Leadership Team, and is a member of the Music Worship Ministry, the Hospitality Ministry, and the Bereavement Committee.  No matter the task, great or small, in the front or behind scenes, Sis. Marilyn is always eager to help.

Following a lineage of supportive Pastoral spouses, Home Assembly Church is blessed to have Sis. Marilyn as our First Lady. With a warm smile, hearty hug, and and a pleasant personality she goes out of her way to make sure all feel welcome and loved. Her great sense of humor and creativity enhances our ministry in countless ways.

Sis. Marilyn is committed to living for God, sharing his love, and serving His ministry as she faithfully supports her husband,
Pastor Marcus
.